Devs: Interviewing (Panel Q&A)
February 8 @ 6:00 pm

-

8:00 pm

CST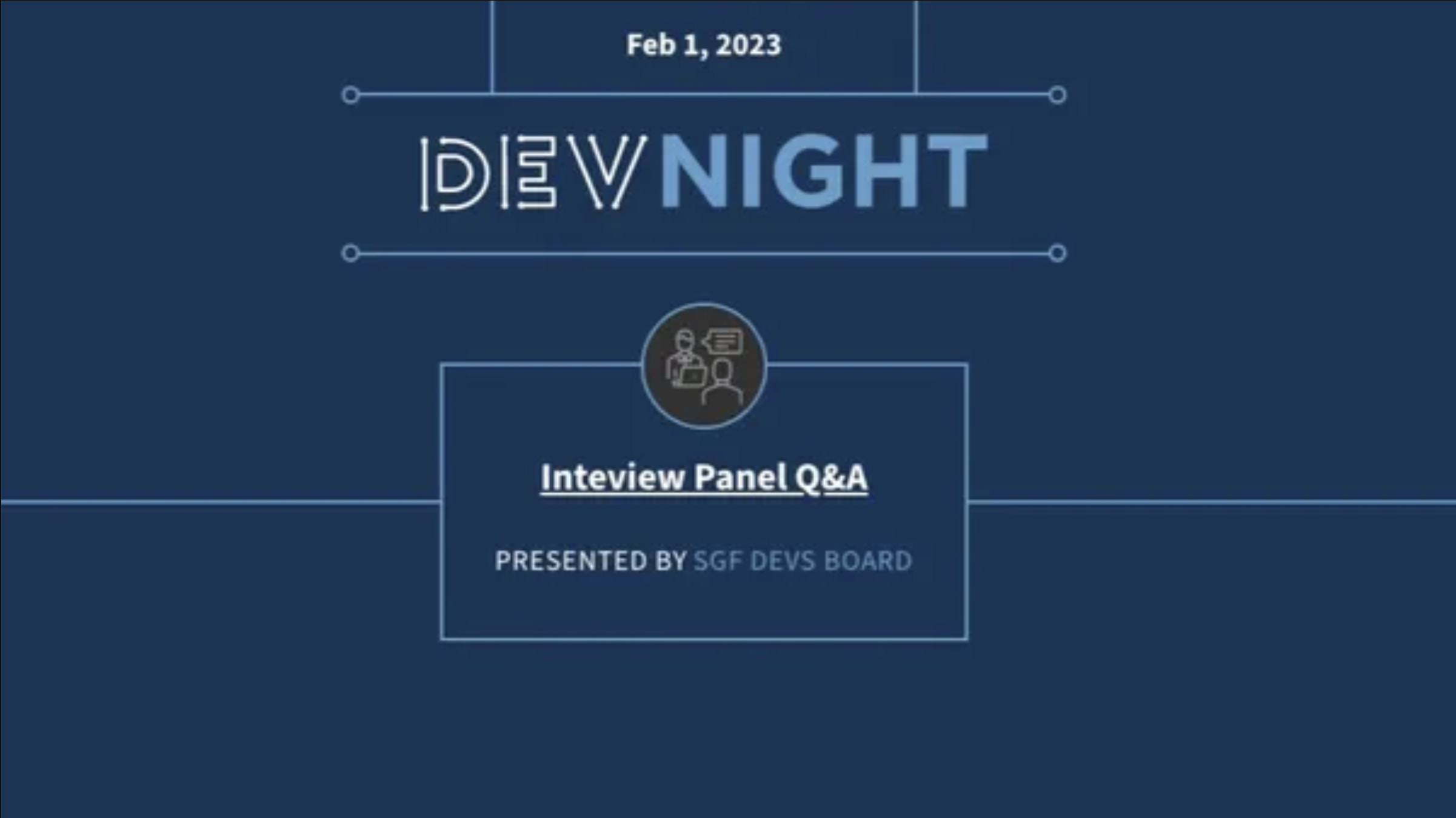 This event was originally scheduled for February 1st, 2023. This event has been rescheduled for February 8th, 2023.
Springfield Devs: Interviewing (Panel Q&A)
Recruiters, Interviewers, Hiring Managers will join the SGF Devs for a Panel discussion. We will have preset questions to start the panel, but encourage audience participation.
Maranda Provance
Maranda is Director of Development at Mostly Serious where she provides vision, oversight, and management to a small team of web developers. At Mostly Serious, she works together with a talented group of designers, writers, and developers to create beautiful websites that help companies get real results. She also co-founded The Geek Foundation, a nonprofit organization that seeks to increase the tech employee pipeline by making it more diverse.
Lynsee DeGraw
Lynsee has been the Talent Acquisition Specialist for Midwestern Interactive for a year now. Midwestern Interactive is an embedded teams provider based in Joplin and Springfield serving some rad clients – names like Lyft, Meetup, Coca-Cola – and we're always lookin' for great talent to help serve them! Last year we made it onto Incs List of Fastest Growing Private Companies, because our model works, and Best Workplaces, because our culture does too.
Tim Franklin
Tim works in the UX department at Duck Creek focused primarily on their Design System and helping the company's suite of products adopt it. He graduated from MSU in 2005 with a BS in CIS and has worked for startups, large corporations, and mid-size companies alike. Part of his job responsibilities over the years have included recruiting, interviewing, hiring, coordinating a hiring pipeline for multiple departments, and managing several engineers. Tim also used to be the Supreme Chancellor of the Springfield .NET User Group for many years.
Jordan McAdoo
Jordan is an iOS engineer and mother of 3 with a passion for building delightful and accessible mobile experiences. She is a fierce advocate for diversity and inclusivity in the tech industry, particularly focusing on helping increase the number of women in the field. She has worked remotely for the past 5 years and spends her free time hyper-fixating on a new hobby, staying up too late to finish a new book, or convincing her family to adopt a new animal.
Details
Dev Night – In-Person and Online
LIVE STREAM WILL START AT ~ 6:30PM
We will still continue streaming our events live if you'd prefer to attend virtually. View the stream on Twitch at https://www.twitch.tv/sgfdevs
Use Discord if you'd like to be able to interact with the virtual audience.
https://sgf.dev/discord
We will have sli.do for collecting and moderating questions. Please submit questions prior or during the panel discussion to make the most of our time together. Slido is open for your questions (now until the night of the event): https://app.sli.do/event/4qJSdLkd8b3ceZZivjLBWj
Agenda
6:00pm Social and Food for in-person attendees (Pizza/Soda/BYOB)
6:30pm Community Announcements (Start Online Stream)
6:45pm Panel Q&A Start
7:30pm Wrap-up
8:00pm Close up shop
For those attending in person:
For this meeting, we will in the idea loft. Enter through either entrance and proceed to the stairs on the West side of the efactory.
Here is a map of parking options at efactory. https://f.hubspotusercontent00.net/hubfs/4744153/Parking%20Maps/efactory_Event%20Parking.pdf
Related Events